Let's face it...when you have a baby, you can't just grab your keys, wallet, and phone and head out the door. Nope-even a simple trip to the grocery store takes some planning. You don't wanna be late for a feeding..especially not for my little guy..who goes from happy to hangry in .5! :)
What I'm showing you today is what is always in Cooper's bag...for the day to day things.
Every morning I pack his bag for the sitters, I add his bottles w/water in them, his formula, and his cereal (explanation on this at a later date..no flaming please.). Those things aren't pictured today but I assure you, I always have a bottle on tap...even if he just ate...I don't want to get stuck out somewhere with no formula.
First up...the bag itself...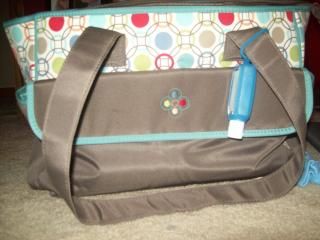 It's a Graco bag in Twister that matches our travel system. OCD, much? Eh-maybe..don't judge.
I loved it because the inside was super super easy to clean, it had interior and exterior pockets, and wasn't too baby-ish. I felt as though this would transition well into a toddler bag.
And like any other OCD/germaphobe mama-there is sanitizer attached to the bag. WHAT?! :)
Alright...let's take a peek inside:
1. Extra change of clothes. Does this really need explanation?
2. Portable changing pad with diaper rash cream, wipes, and diapers.
3. Rattle-little man LOVES him some rattles!
4. Gas drops
5. Blanket
6. Bib
7. Wubbanub
I realized very quickly that when it comes to packing a diaper bag-less is more!
I usually have enough room in the diaper bag that I rarely carry a purse if we are out. I just throw my wallet, keys, phone, and planner in the bag. So much easier!!