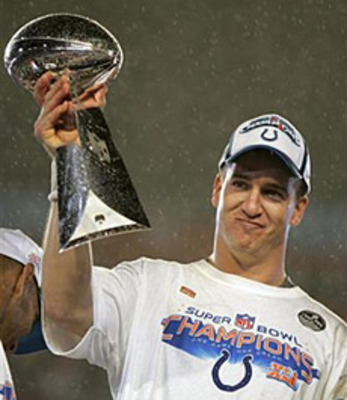 (Source)
(Source)
Well....as much as I knew this day was going to come...it still sucks. I feel like my best friend just moved away. (Okay-I lived through that..it wasn't quite like this but..go with it.)
Tomorrow we're releasing Peyton. Mr. Laser Rocket Arm himself.
I know it's best for the team. I know that we can't afford to keep him, get Luck, and fulfill our needs (A/K/A Let's get some damn defense up in this shit, okay?). But selfishly, I love him. I love what he's done for this city. We have a Children's Hospital built in this city BECAUSE OF HIM. We have a Super Bowl win BECAUSE OF HIM. We had a Super Bowl in this city BECAUSE OF HIM.
I hope whatever city he goes to treats him well. The fans better treat him well. And I hope that he knows that there will be at least one 4'11" blonde chick bee boppin into Lucas Oil to see him when he comes back to us. I'll be holding a sign that says something along the lines of "Welcome Home, Peyton. Thanks for everything!"
He'll always be a Colt in my heart. And the city of Indianapolis will always be his home.
Let's hope the time he plays for doesn't play against the Saints anytime soon. I'd hate for a bounty to be put on his head.
Zing.
(Sidenote: I know some people on here HATE sports and that's totally fine. This is senseless rambing to them. Sorry!! Sports have always been a huge thing to me. I totally teared up when this news became official. I'll totally full blown cry when they announce it. Don't judge!)